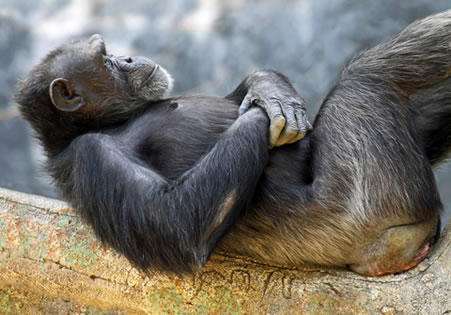 Indianapolis, IN – DWUser.com – April 1, 2012. For immediate release.
After we officially released EasyRotator for WordPress earlier this week, you probably thought it couldn't get any better. However, we've outdone ourselves. We're proud to announce immediate availability of EasyRecliner. The picture above pretty much says it all… it's the ultimate eco-friendly seating solution for code monkeys (chimps?).
Nathan Rohler, our lead developer, says, "We spend a lot of time on our rear ends in front of screens. So, our engineering minds went to work. We said, 'Let's bring some nature indoors, and ditch the office chairs for recliners at the same time.' After a couple of days of sawing and hammering, we knew we had cracked the code."
The result is EasyRecliner, a product that's as easy-to-use yet feature-packed as EasyRotator. Its 100% hardwood construction might make you a little sore, but the 100% biodegradability is worth it. (It builds endurance and character, too.) You can order EasyRecliner today; we ship via stork, though, so the delivery schedule is a little sporadic.
EasyRecliner: Because all software companies should make furniture, too.
* Happy April Fools, everybody!