DWUser.com
Empowering Web Creativity
Support Center - EasyRotator for WordPress
EasyRotator KnowledgeBase – Setting Raw Configuration Options
Please Note: You must be using EasyRotator Pro to use this feature.
You may occasionally be directed by support to set a raw configuration parameter to enable advanced behaviors (such as customizing the audio player's appearance). To set a raw configuration parameter, first select File > Advanced Preferences in the top-left corner of the editor application: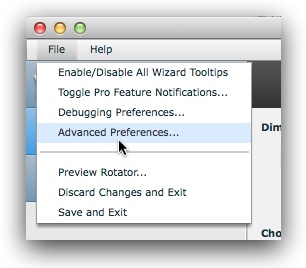 In the Advanced Preferences dialog, enable Allow Setting Raw Config Options:

Close the preferences dialog and switch to the General Settings section of the editor. At the bottom of the General subsection, you'll see a new box for setting (and removing) raw configuration parameters:

In the Property and Value fields, enter the values that you were directed to enter by support. Then click Set Property to apply the change. As mentioned before, only apply raw configuration options under the directions of support, as entering errant values can entirely break a rotator.
We're Here to Help!
If you have any questions about this article or about using EasyRotator, please let us know by opening a support ticket below.