Danger from downtime
and hackers is unavoidable.
EasySiteMonitor makes sure you're the first to know when trouble strikes.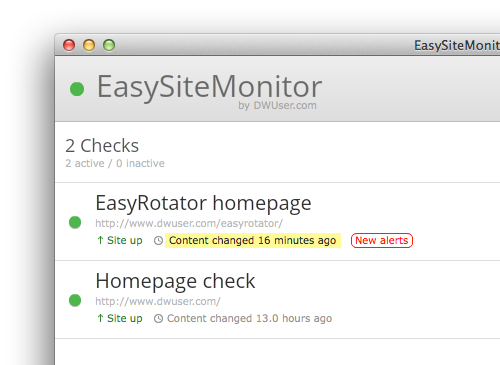 The danger is universal.
As much as the web has matured over the last decade, there are still huge threats:
Out of date software (did you know WordPress just had a big vulnerability a few weeks ago?)
Remember the "catastrophic severity" Heartbleed and Shellshock bugs from a few months ago?
Even technology companies such as --ahem-- Sony aren't immune these days...
And that's not even touching on the issue of downtime. Do you know if you (or your clients) are losing potential customers because of uptime issues with your webhost?
Here's the reality:
Forbes reports that over 30,000 sites are hacked every day.
No matter how well you prepare, it's impossible to avoid the constant threat of your site being hacked or just going down at the most inopportune of moments.
Even if you could keep a constant eye on your site(s), you still might miss a hack. Most hacks these days involve placing subtle, evil links on pages. (Like you wanted your biz site to link to an offshore casino, right?) Often there's malware involved too, which leads to "fun" like this: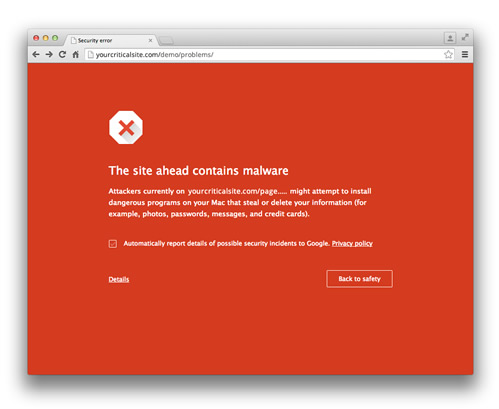 Indeed, ComputerWorld reported that 94% of webmasters are NOT the first to find out their site was hacked.
"Most owners of compromised websites don't know how their sites got hacked into and only 6 percent detect the malicious activity on their own, according to a report released by StopBadware and Commtouch…"
Do you really want your clients being the ones who first find out about your mishap?
Failure to keep a super-close eye on your sites will inevitably lead to a tarnished reputation, missed clients and lost $.
When trouble strikes, shouldn't you be the first to know?
We sure think so. Enter EasySiteMonitor.
Every webmaster should be the first (not the last) to know when trouble comes. That's why we created an easy tool that would keep an eye on your sites for you, automatically, and alert you when anything goes wrong. Hopefully nothing ever will (knock on wood!) – but if it ever does, you'll be the first to know, so you can control the damage and get things back to normal ASAP.
EasySiteMonitor is a simple app that runs in the background on your computer. It does three things:
It checks every few minutes to be sure that your site is still reachable (i.e. isn't down)
It tracks any changes to page coding or content
It regularly checks your pages against Google's malware alert database for any problems that could get your site blacklisted
If any problems are detected during these routine checks, the app will alert you (and send an email or text message alert too, if desired). Instead of days passing and your site getting blacklisted, you'll know within minutes if something has gone wrong.
You can be covered in 5 minutes
As you're used to with our other apps, EasySiteMonitor is drop-dead simple and it just works. You can have your sites being monitored within 5 minutes: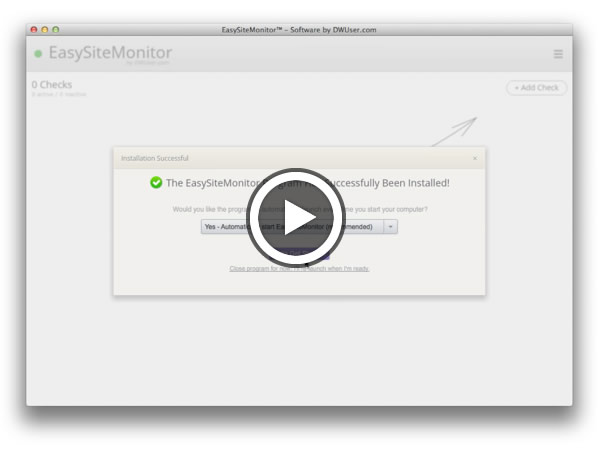 Imagine how much more peace of mind you'll have knowing that your site is being monitored closely for any signs of unusual activity or downtime. You'll be the first to know if your webhost oversells your server – versus just losing a bunch of fed-up customers who throw in the towel. You'll be the first to know if some offshore hacker starts injecting porn links on your site – versus having to clean up the mess after your Google tanks your SEO.
EasySiteMonitor is an essential tool for every webmaster who wants to protect their reputation, wallet and peace of mind.
We wanted this tool to be something that every webmaster would be able to afford. We don't want anyone to have to deal with the trail of destruction left by an undetected and uninhibited hacker.
The standard version is 100% free. You read that right – 100% free, no strings attached. If you need to monitor more pages, the Pro version with unlimited checks is only $29. This is a ONE-TIME fee, not a recurring payment.
The monitored pages can all be on one site or all on different sites.
As with everything we offer, EasySiteMonitor is backed by our world-class customer service and the Pro version offers an iron-clad 30-day money-back guarantee. If you aren't completely satisfied with EasySiteMonitor and the peace of mind it brings you, we'll issue a full refund, no questions asked.
What are you waiting for? Don't let yourself be part of the 94% of webmasters who don't even know when their site gets hacked!
Do you want to see this email in your inbox?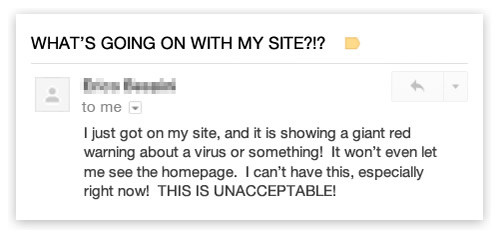 I know I sure don't! Let EasySiteMonitor watch your website's back and catch any issues from the first moment, lest you end up with a damaged reputation, lost $, and a big mess to clean up.
Thanks for writing! We'll get back to you ASAP!
FAQs:
Can I use this for client sites?
Absolutely, as long as you're the site developer or manager! It's a great opportunity to provide extra value for your clients.
What computers is EasySiteMonitor compatible with?
Windows XP or higher, and Intel Mac OS X 10.6 and higher. No special software is needed.
What if I turn off my computer?
Monitoring will resume as soon as you restart your computer.
Can I send alerts to multiple addresses?
Absolutely. You can add multiple email addresses or phone numbers for text alerts.