EasyBigBackground
Full-screen Background Images Made Ridiculously Easy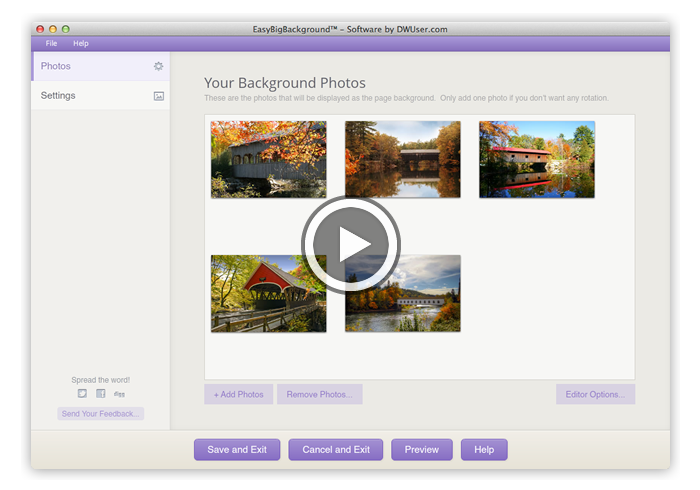 What better way to showcase your photos or spice up your site's background than with some beautiful full-screen photography?

But there's that coding thing...

Actually, there WAS.
Introducing EasyBigBackground.™ It's a Dreamweaver extension and standalone app that makes it RIDICULOUSLY easy to add one or more full-screen background photos to your webpages – just like you see on this page.
Check out all the cool stuff you can do with this widget. (Best of all, you can do it all in a whopping 1 minute 35.1814 seconds... we measured with an atomic clock):
Add one static photo or several rotating photos
Randomize the photos
Scale the photos to fill the window (like this page), only scale down, or don't scale at all
Control opacity, timing and fade speed
Your clients and visitors will think you're a web ninja ;-)
It's HTML5 goodness, compatible with all modern browsers and mobile devices (there's an option to disable it for tiny screens)
A whole bunch more
Absolutely NO page modifications or coding needed. Plus, it's an app that's beautiful and fun to use.
Here's how it works:
First, you've got a nice page... but it has a bland background: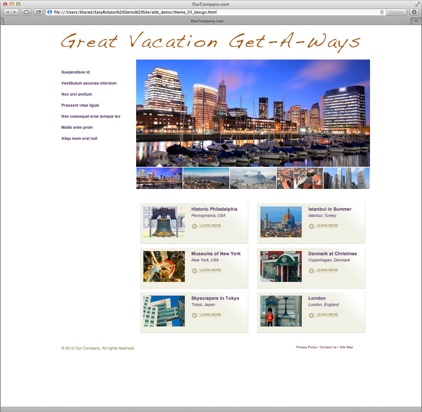 No problem. You click Insert > DWUser > EasyBigBackground in Dreamweaver (there's also a Standalone app included if you're using some other HTML editor):

You select/add one or more photos: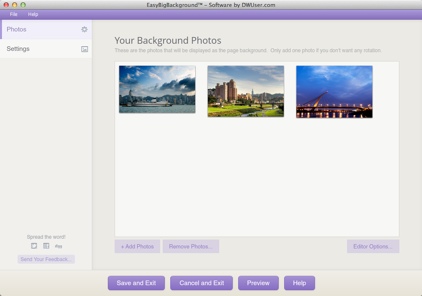 And set options such as randomization, timing, opacity, etc: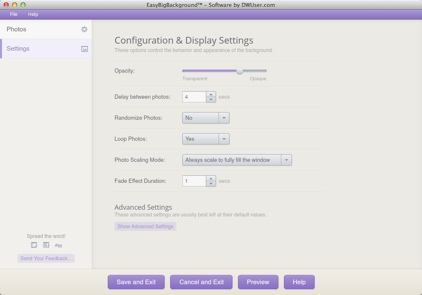 Click Save, and presto...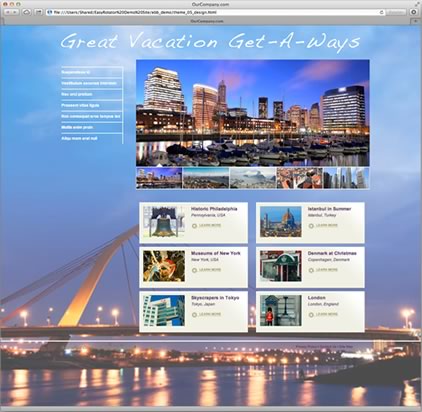 ...your page has a full-screen [rotating] background, just like the page you're on right now. Any questions? Shoot us an email.
The Dreamweaver extension is compatible with MX, MX 2004, 8, CS3, CS4, CS5, CS5.5, CS6 and CC. The Standalone app can be used in conjunction with any HTML editor.
It's a tool everybody should have in their toolbox, and it's available for a knock-your-socks-off value.
I wanna soup-up
One-time purchase, 100% satisfaction guarantee.